Welcome back, dear creators! Last time we spoke about the best free cartoon maker apps for Android and iOS. This time we don't limit the scope of platforms where we can create. We go worldwide with the Internet. In the following article, we will cover the 5 best avatar maker sites online.
Why use an avatar?
What do we need these avatars for? Why not use real pictures? We need such services because time has changed a lot. The 21st century is totally on the Web. Nowadays, privacy and cybersecurity are the most important. There are many ways how to protect yourself against numerous online threats. One of them is avatar maker online websites. Let's have a closer look at them and decide which ones deserve our time.
5 best free avatar maker online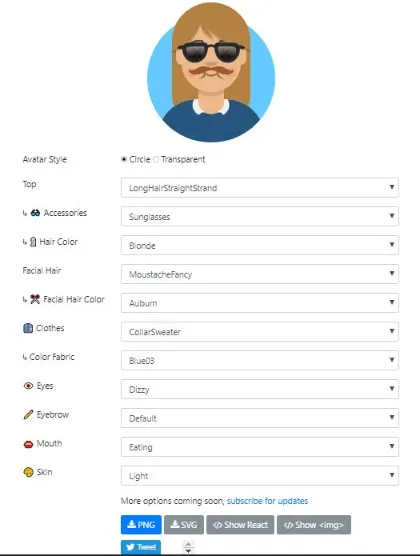 The first one is Avataars Generator. That is a really fun tool! Moreover, it is very useful, because it has a lot of ways of customizing your avatar online on the Website. You can choose between transparent or circle avatar style. Create your hairstyle, face, shapes of facial parts, clothes, color your hair and skin. Combine all that you want, I bet you won't be disappointed!
Pros:
Random choice of avatar
Lots of saving and sharing methods
Tones of customization ways
Cons:
No preview function of styles
List of each feature could have more options
Avatar not always looks like you
Avataaars Generator is funny and easy, but its customization ability is minimal. With the Face.co you can customize your hair, eyebrows, eyes, ears, nose and mouth. Color variants are available for the iris, hair, and skin. You can also choose clothes and a cool background! Useful, precise and cool tool!
Pros:
Detailed customization
Easy and simple to use
Saving and sharing functions
Different languages of UI
Cons:
Each feature could have more options
Avatars look alike
Cartoon Network has created a way to build an avatar in the style of the popular cartoon called "Powerpuff Girls"! First, select skin color, eyes, mouth, hair, beard (optional) in the Self section. Then, go to Gear to select your clothes, glasses, an object in your hand, and a companion like a dog or an object. Once you're done, AI will try to create a cool background. Next, complete a questionnaire about yourself and answer a short quiz. After those steps are done, the app will make a background accordingly.
Pros:
Tones of customization options
Smart AI system
Personality and character customization
Objects and pets
Cons:
Cartoon style
Not such a big choice of styles
A bit hard to understand the steps
The cartoon has become the most viral and embraced the whole Internet. Now, true fans or amateurs of this masterpiece can come closer to the world of South Park. Almost everything is customizable here. Since this is an official avatar creator, you will get a lot of animations, create memes or use old ones. Feel free to make multiple avatars, download them and save them.
Pros:
Real South Park here
Authentic characters
Various customization ways
Detailed adjustments
Unstoppable fun
Cons:
Maybe will be clear only for fans
The animation could work faster
With Ready Player Me, you can build your own 3D-style avatar. You can upload your photo and let the system create a cool avatar for you. Or you can manually choose the bits you want to make in your own way. Full body or head and shoulders options are available here. This app doesn't offer that many features, but you can change facial hair, hairstyle, and color. Also, you can add makeup, glasses, hats, clothes, masks and tattoos. Save in 3D or PNG format.
Pros:
3D as if a game character
Full body or head and shoulders
Looks quite realistic and true to life
Cons:
Sometimes can work slow
Graphics quality is not stable
This app is quite hard for weak PCs
Minimal number of changeable features
Here we are at the end of the article. Thank you, dear creators, for your attention. Join us and subscribe to our news to stay updated about everything from the world of creation and imagination with Avatar Creator Apps! See you!
You may also like:
Play the "would you rather", we'll generate an avatar for you!
6 Best Free Cartoon Maker Apps To Let Your Creativity Shine!!