Every time you need to upload a photo to a website or app, do you feel reluctant to do so? For an introvert like me, it's really hard to just show my picture to others. And I found out that using an avatar can solve the problem while still helping me build my identity. Thanks to various apps, this is super easy and also a fun thing to do! I'll show you how to make your own avatar on your phone taking Avatoon as an example.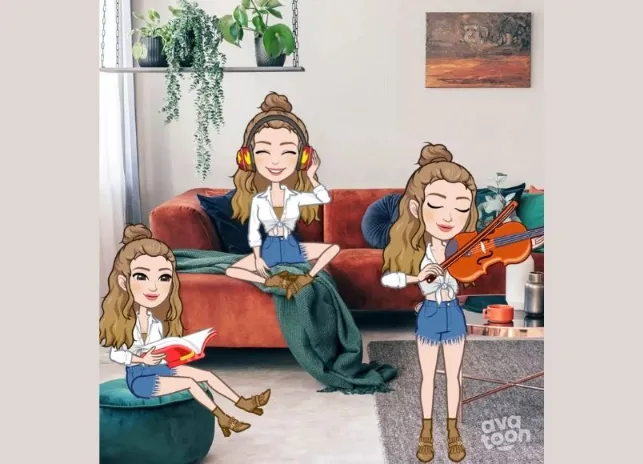 5 easy steps to make your own avatar
Step 1. Get an app!
Speaking of avatar makers, there are plenty. In my case Avatoon works great as I find it pretty versatile.
Except for making avatars, Avatoon also offers features including sticker creating, dress up games as well as exciting style challenges!
You can download it free on Google Play or App Store. Most of the resource is also free. So it won't cost you any money.
Step 2. Create a cartoon avatar of yourself
Avatoon offers AI facial recognition and manual creation. For me, I feel a little embarrassed to use the face cam so I prefer creating an avatar from a photo or just start making it by myself.
You can make multiple characters if you want, just tap on the profile icon to add new ones.
For more details, check How to make an avatar that looks like me?
Step 3. Custom your avatar in detail
After the second step, you only have a basic avatar, you need to adjust the facial features to make it look more like you, also more attractive.
Here you can change face shape, skin tone, eye color, hairstyle, etc. Don't miss a single item! They all make a big difference!
Swap right to add makeups like lip color, eye shadow and eyelashes.
Step 4. Style your avatar
I actually enjoy this step the most! Not only because it's like playing a dress up game, but also I could try some clothes I usually don't wear.
Avatoon offers 1000+ outfit options, which allows you to try on all kinds of looks. If you are running out of coins, you can earn more by joining style challenges!
Make sure you click the Save button before you start the next step!
Step 5. Choose expressions & poses
Now tap "Create my photo" to make photos with your avatar on it!
You can choose a background either from Avatoon or from your own gallery. Then tap to add your characters and try tons of expressions and poses.
Hit on the Save button and use your own avatar on any social media!

Join the community of Avatooners NOW on Google Play or App Store!
You may also like:
Play the "would you rather", we'll generate an avatar for you!
5 Online Dress Up Games Girls Should Play, Recommended By A Girl
Your avatar might have a different zodiac sign, this quiz will tell you the answer!