Hi, guys! 2022 is here and NFTs are growing and expanding! Let's grow and make money with these upcoming NFT projects! Today we are going to list the best NFT projects to buy! Prepare your wallets! Besides new NFT projects, we will have a look at well-established ones too.
What are the best upcoming NFT projects in 2022?
What is the best NFT project to buy?
Are NFTs worth it?
How can I invest in NFTs?
What are the upcoming NFT projects in 2022?
Let's start with the best one. Or, the most popular? Or the most profitable? Or the easiest yet time-consuming? Or, maybe we can label it as pleasure and profit combined? The best job is a highly paid hobby? Let's see.
OpenSea: 283.8K items 45.3K owners 27.5K volume traded
For now, the most promising NFT tokens are in Axie Infinity. The users buy, sell, resell, grow, upgrade and breed monsters here. Each of them is an individual one and is an NFT token. They are quite expensive for now and for buying them you will need some money.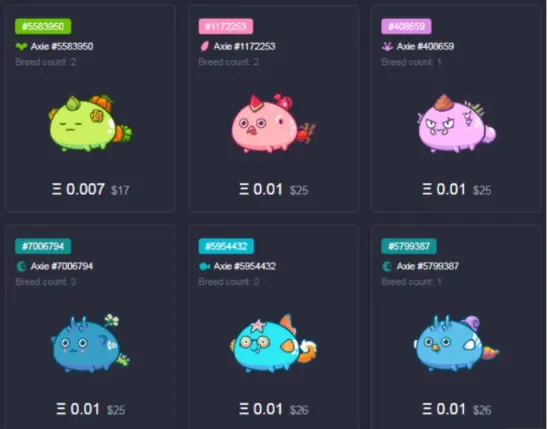 This project is a part of the Ethereum blockchain. For authorization, you will need a crypto wallet. For example, METAMASK.
After that, you will get a PC or Mobile App. You need to buy your first three monsters because at least three are necessary for an attack squad. There are several types of monsters and all of them are unique.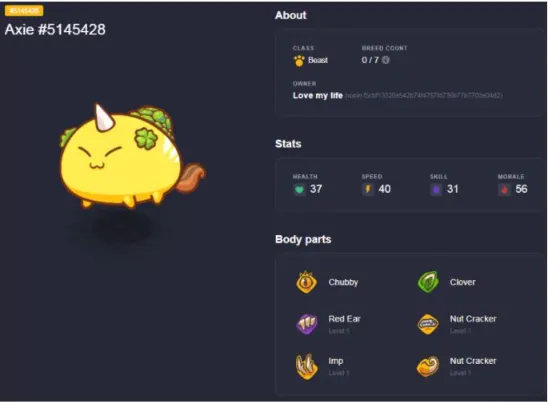 The prices depend on how rare they are. Thousands of dollars. Interbreeding rare Axies can bring even more money.
Besides monsters, you can also buy and sell lands. They are even more expensive than Axies.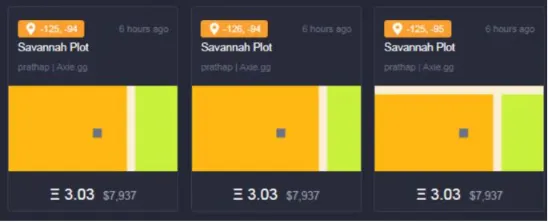 Actually, the gaming process is quite a simple one. Just join PVP battles and get rewards. The stronger your monsters are the more chances you have to get a prize. Now this project is crazy popular. And it is a game. I recommend you join it!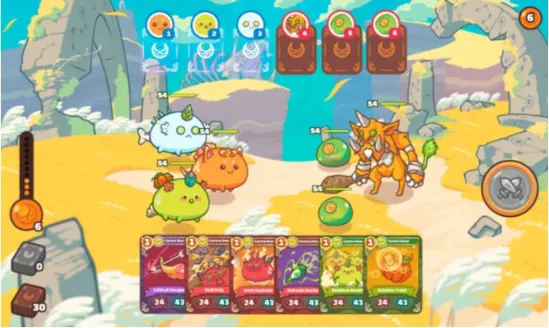 We continue talking about upcoming nft projects. You may meet some projects that have already existed for some time but be sure, nowadays world changes so fast that no one can stay the same for a long time. These projects, too. They upgrade, grow, bring new things to the NFT society and the Blockchain world in general.
One of them is Sodativity.
I guess you've already heard about Bored Apes Yacht Club and these guys have around 10k pics. Their prices start from 0.1 ETH. The community grows quite fast, so the NFT prices.
OpenSea: 10.0K items 5.3K owners 0.029 floor price 2.6K volume traded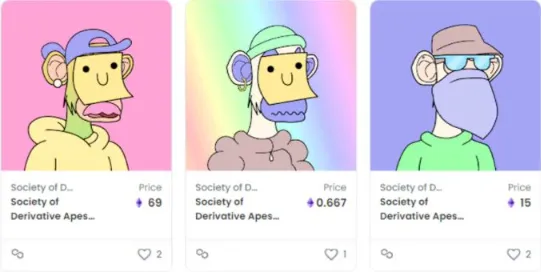 Good old punks. Crypto. Creepy. Digital and….. Expensive! Even though they are already a bit old, they are still noticeable and people do like them. Have a look at the following screenshot. March 2022. I think I don't need to overload you with who are they and how they are created. Give it a try and monetize your crypto creepy digital punks.
OpenSea: 10.0K items 3.4K owners 854.3K volume traded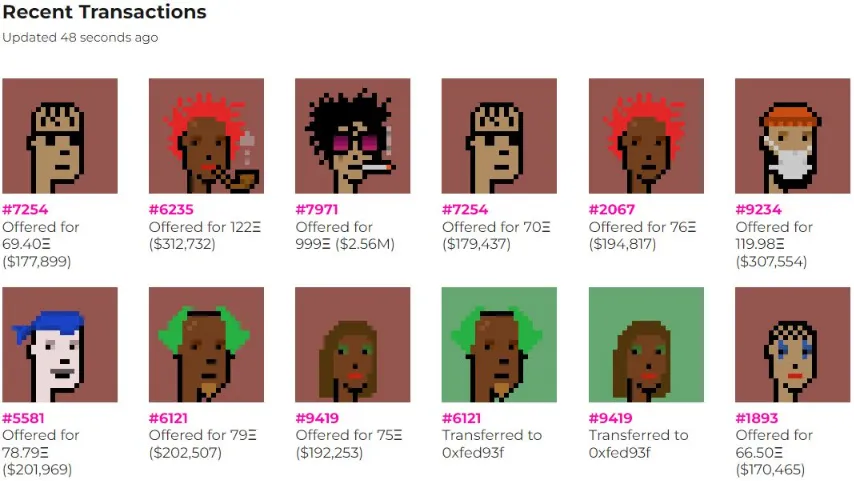 This article is intended to give you as much as possible information about not only upcoming nft projects but also about other ones that deserve your attention and NFTs tokens.
OpenSea: 4.4K items 332 owners 0.129 floor price 4.3K volume traded
I would like to introduce one more website, with 4444 unique collectible characters. These are pixel pictures created by a picture generator. Ethereum blockchain. I've seen the line: "Metaverse is coming soon". These guys are going to metaverse!? Let's see.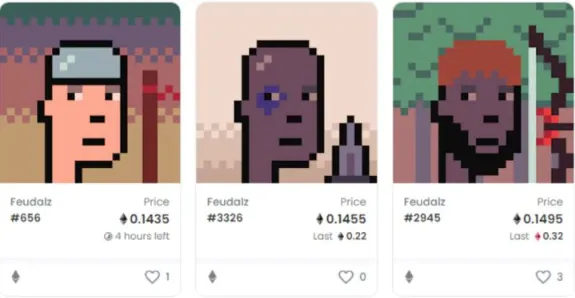 Oh, one more thing. Besides their 4444 NFTs, they have a game!
The Game's Menu says:
Vault
Bank
Humanz
Orcz
Elvez
Animalz
Landz
Arena
So, we can see that this game probably looks like Axie Infinity. I checked it a little bit and suppose that Vault is for your tokens, Bank is where you can do money operations, Humanz that you also can have, and they can work for you, Orcz, okay, we know what these guys usually do, Elvez who is a fan of them? Your time came. Animalz can be any of them. Have a look. Landz, are always expensive. The Arena is time for a contest!
Alright. I think we talked a while a bit pixel NFT arts. What about something smooth, cartoon style, stylish, colorful? No problem. Have a look at this:
5. Doodles
10.0K items. 3.8K owners. 9.99 ETH floor price. 86.6K ETH volume traded.
Impressive? I think it is not bad.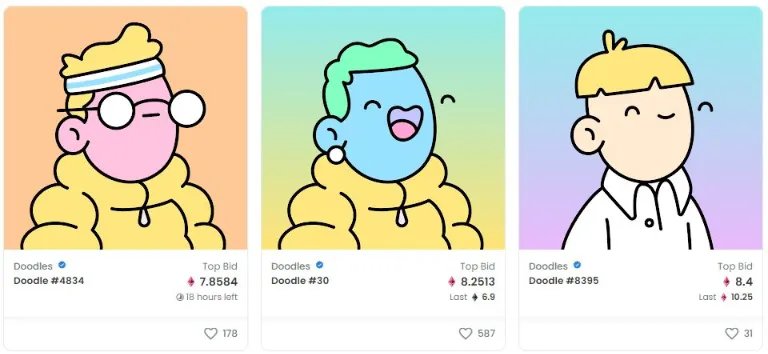 Thanks to the Burn Toast, we can have them. And you. And anyone. Join the fast-growing community. Token holders have a right to vote for future development. Go, leave your footprint in the NFT history of the Blockchain world.
One more pixel NFT collection. Yeah, yeah. I know, there might be too many of them, but anyway, let's consider this one too. This is a decentralized open-source project. Token holders become part of the community. Prices are low, but they are growing. I think it is a great place for beginners. Try yourselves here in all kinds of operations. Don't hesitate, just do it.
10.0K items. 3.3K owners. 0.92 ETH floor price. 11.9K volume traded.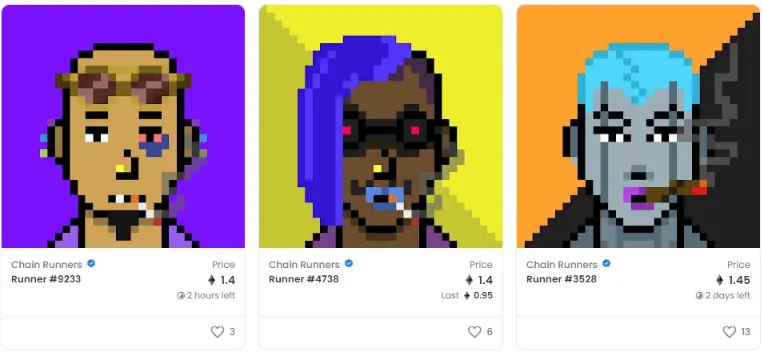 Minecraft's fans are here? This one is for you. At least I think in this way. Ha-ha.
Here is what OpenSea says:
8.9K items 3.4K owners 1.09 ETH floor price 23.9K volume traded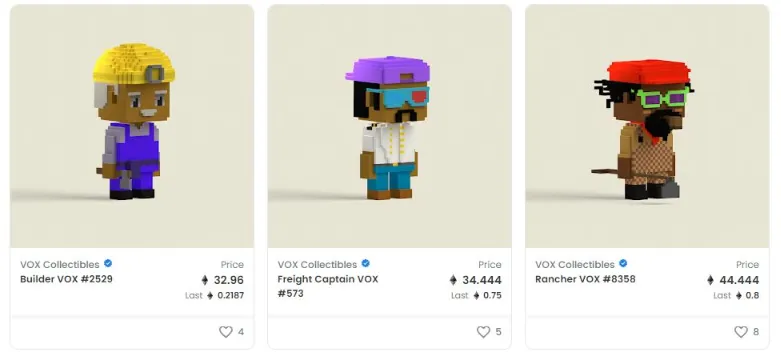 What is so special about them? They are different, individual. And… they have different professions. Token holders get a special file that lets users enter metaverse and turn a picture into an animation. Hurry up! They look cute and attractive!
Are there any fans of the Game of Thrones or Dragons in general? Maybe John Snow at least? Khaleesi? Ok, I won't torture you.
This is an NFT collection of 5K dragons. Imagine this number in the Game of Thrones? Join this pretty big community and get your dragon(s).
By the way, the developers created their own currency "Smoke" that will be used in the future.
And their Discord channels always have different lotteries!
As this is the game, their main gameplay is based on randomly generated dungeons and raids, as well as PvP and single battles.
You can also be a resource vendor or just have some fun in their NFT world.
5K items 1.7K owners 0.115 floor price 1.2K volume traded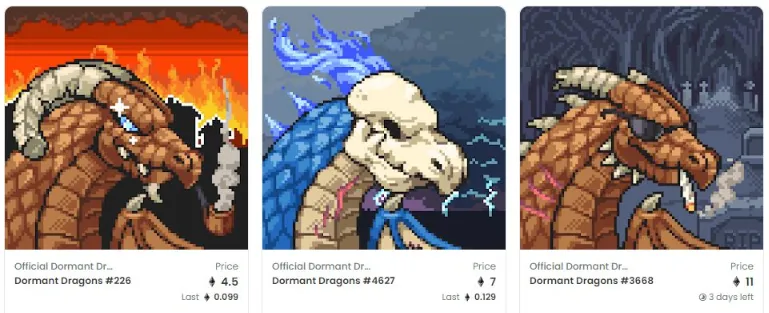 This NFT token opens membership in the private community. Token holders get access to unique NFT sets/collections, private chat, announcements, exclusive videos, early access to partner NFT projects, and many others.
Their tokens' prices started from 2.5 ETH, and now, around 5 ETH or more. And the most interesting part for future investors is privacy and expanded opportunities.
OpenSea stats: 10.0K items 6.8K owners 2.989 ETH floor price 12.8K volume traded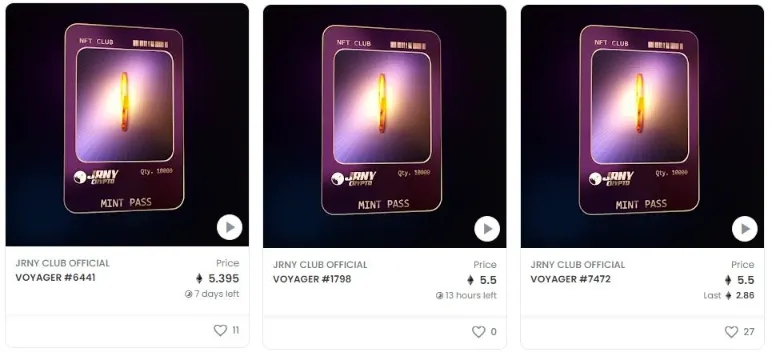 And finally, we are coming to the last one on the list of upcoming nft projects.
And since we are talking about cryptocurrency, tokens, blockchain, and NFTs, I think it would be a logical conclusion and quite useful if I mention a crypto bank.
This is a decentralized financing project. It allows users to borrow, invest and credit with different currencies like ERC-20, ETH, or any other fiat currency.
Fiat currency is the money we all use. The real money that we have in a pocket, or on a bank card.
Despite decentralized financing, EQIFI has a special bank where users can get full access to all its products, like credit cards, multi-currency accounts. Thanks to the EQIFI democratization of banking services moves in the right direction.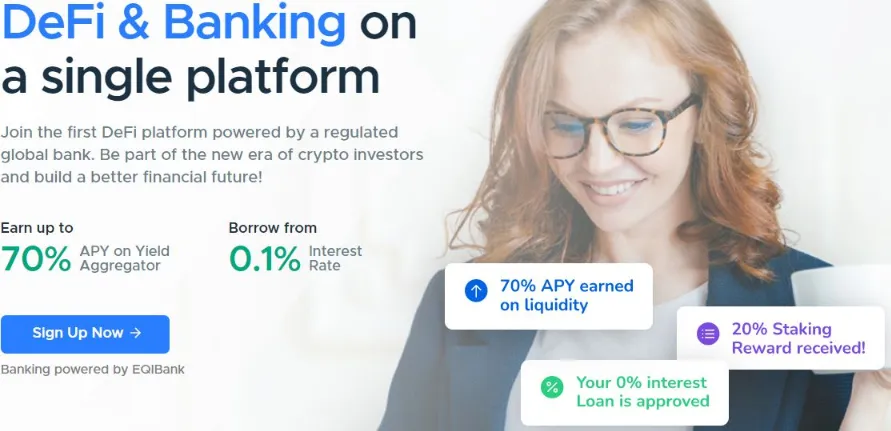 So, now you've got the projects and the bank. But, which projects would be better to invest in? Let's discuss at least 5 of them.
What is the best NFT to buy?
Honestly, no one can say for sure, what's going to be tomorrow in the real world. The Virtual world is the same. The world of blockchain, Bitcoin, Ethereum, NFTs, and any other tokens isn't that stable.
It changes, grows, new projects come up, old projects faint away forgotten and abandoned.
Let's base our decisions according to the numbers we get, for example, from OpenSea resources.
And, maybe we can also take into consideration the skills and levels of the investors. Or, it also depends, on what exactly you want to get after investing.
For example, if we look at Axie Infinity, this project seems to be quite popular, because the numbers are impressive. And this is the game. Like one of the MMORPG, we play to boost our characters.
If mobile/pc games require our donations changed to virtual money needed for some special bonuses for characters, Axie Infinity will give money to you for your good gaming! Join a big community, fight, be the best and get the most! Remember, we can trade lands too. Highly profitable!
For those investors who want to have more privacy in virtual lives, exclusive content, be in a closed community of people who are the first to get the freshest things, I recommend investing in JRNY NFT Club. Have a look at the stats numbers and features you'll get after joining! Is it the right way to call them something like the elite crypto club? Let's go check them up.
Do you like collecting images, pictures, exclusive, famous things? There are several NFTs to take into consideration.
Old and crypto-creepy guys. Expensive and good. Everyone should have them. Hurry up, there are still cheap ones, and of course, expensive ones. Since they are popular, the prices will still grow!
If the previous guys are mostly for big market players, Sodativity.
Probably would be suitable for freshmen. Their initial price is not that high yet. So, if your balance is a bit limited, and your skill/knowledge base is not that big, consider investing in Bored Apes Yacht Club.
They are also popular. And the prices might jump higher soon! Stay tuned!
Anyway, this article has a few more examples! Have a look at them again. For example, Chain Runners.
Or there is always a way. Online Crypto Bank? Try yourself as a banker, or cryptocurrencies investor! I think it sounds great! EQIFI is a great place to try!
Check out the Yield Aggregator. Numbers don't lie.
Finally, I can say that upcoming nft projects are over for today. We've got enough for this article. But, there are still two points we need to discuss.
Are NFTs worth it?
Yes. They are. Why? Modern society has a great interest in cryptocurrencies and NFTs especially. And, don't worry, it is not late at all to join these people. NFTs are blooming and soon their fruits will enrich the harvesters.
Did you know?
Johnny Depp sells his pictures as NFTs;
Elon Musk has NFTs collection;
The user with the nickname "JustinBieberNFTS" bought NFT token of Bored Ape Yacht Club and paid 500 ETH which is equivalent to $1.3mln. Probably that was Justin Bieber himself. He already has several NFTs in his collection;
A lot of other famous people gradually start to show interest in NFTs. You don't need to have a huge budget in the beginning, or you can start it even for free. Everyone has a chance to make money by NFTs. Don't lose it.
Okay. We have decided that we want to invest and where to invest in. But how to do it?
How can I invest in NFTs?
There are several ways. But for all of them, you need to have your wallet. Crypto wallet. Especially and particularly Ethereum wallet. You can choose MetaMask.
After your wallet is ready. Create your NFTs or buy them! Here is the super-simple guide on How To Make & Sell NFT Art Gas-Free? For Beginners.
Then, you need to find a place where to sell your NFT masterpieces. OpenSea is the world's first and largest NFT marketplace.
You can use your smartphone or PC to create, share, sell and buy NFTs.
By the way, guys! While writing this article, I found a great website! Here you can check all NFTs, their prices, volumes, any numbers you want, any information you are searching for by any criteria! I strongly recommend you to visit it!
Like it is a quick tool to check any NFT you are interested in. How rare, expensive, cheap, popular, cool, worthy, trending, and so on an NFT.
Check more here:
More articles are coming soon! Stay tuned!
So, finally. We are done. Thank you for reading us and we hope this article was useful and informative enough for you!