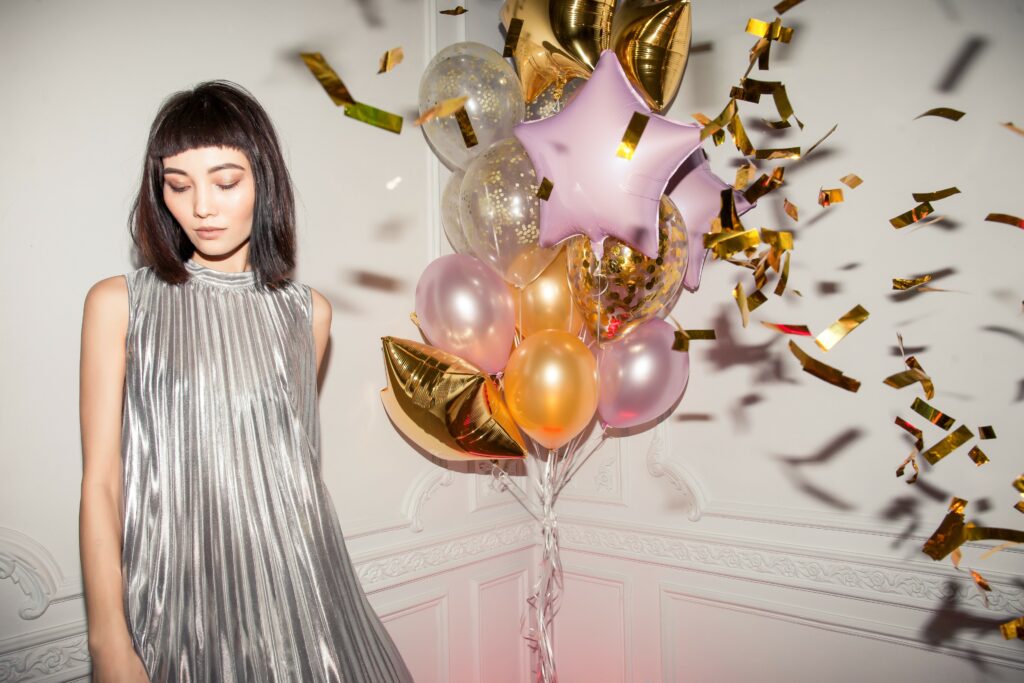 Do you or someone you love have an upcoming birthday and need some inspiration? Check out these birthday photoshoot ideas that will capture the memories and the fun! You might wonder What is the best theme for photoshoot? How should I pose for a birthday photo? or even what should I wear for my birthday photoshoot? This ultimate guide is here to fulfill your need and answer your question.
Outfit Birthday Photoshoot Ideas
When planning what to wear for your next birthday photoshoot, it's important to keep a few things in mind. First, you want to make sure your outfit is trendy and cute. Second, you want to ensure it's flattering and makes you feel confident. And third, you want to ensure it's appropriate for the type of a photoshoot you're doing. With these tips in mind, you'll be sure to find the perfect outfit for your next birthday photoshoot. Here we cover some trendy and cute outfit ideas:
Stay classic: A plain white tee with denim jeans and sneakers
Add a little feminine touch: floral dress with a denim jacket and sandals
Stay formal: A maxi dress with a denim vest and wedges
A blouse with a pleated skirt and heels
A printed dress with a cardigan and flats
A little black dress with a blazer and pumps
Poses Birthday Photoshoot Ideas
Ever wonder about How should I pose for a birthday photo? This guide would give you thorough ideas about your pose.
"Fifty" Birthday Candles
Balloon Arch Kit 50th Birthday
Cutting a Birthday Cake
To the nature, In the Garden
Candid Images with Family
Capture Moments with Friends
Don't Be Afraid to Be Funny
Capture Your Vacations
Beautiful Images with Flowers
Birthday photoshoot ideas for different ages with different themes
21st birthday photoshoot ideas
Your 21st birthday is a milestone birthday – the first time you can legally drink, vote, and rent a car. It's also a time to celebrate with family and friends. Why not commemorate this special day with a fun photoshoot? Here are 19 21st birthday photoshoot ideas. so here are some examples for your 20th birthday, such as 22nd birthday photoshoot ideas or 23rd birthday photoshoot ideas.
Shoot a Pre-Party Portrait
Get The Gang Together
Embrace Your Friends (Rear View)
Celebrate on the Beach
Go For a Picnic in The Park
30th birthday photoshoot ideas
The 30th anniversary is a thrilling date for many people, so most of them want to organize something special to remember the event forever. It is a really cool idea to have a thematic photo session realizing crazy 30th birthday photo shoot ideas, so you will receive not only positive emotions but also lots of fantastic images.
Photo with Balloons in the Form of the Number 30
Use Solid Color or Neutral Background
Take Naked Photo with the 30th Birthday Identifier
Take Photos in the Open Air
Restrained Portrait without Thematic Props
1st birthday photoshoot ideas
Every parent wants to come up with unique first birthday photoshoot ideas for their munchkins because firsts are always special. First birthdays are celebrated in a grand way. Your little angel's milestone needs some pomp and show.
The Birthday Girl In A Flower Basket
A Close-Up Shot
A Party Photo Shoot
Baby In Jelly Beans Shoot
Playing With Mud Photoshoot
40th birthday photoshoot ideas
So…you are turning 40. That is amazing! I know it can feel scary to see the decades go by, but I know that being in your 40s is where it's at. Back on as you continue to go through life, and relish these moments. So, I created a list of some of the best photoshoot ideas I could find. 
50th birthday photoshoot ideas
At the age of 50, you are most likely to already have started a family. Of course, you may still have mom & dad and occasionally grandparents & siblings. So a fantastic present would be a family portrait photoshoot, either on your 50th birthday or any day at your will. Alternatively, the stunning moment can be captured at this age on the 50th birthday.
Playing With Bubbles
Age Mentioning Gas Balloons
Candle Light Party
Making A Dance Move
Surrounded By Sons, Daughters, And Grandchildren
Conclusion
To conclude, reaching the age of 20,30,40,50, is a golden moment when everything you do has value. Only mentionable thing is to enjoy the moment as you are doing great. And, the coming years will give you more experiences to share with your family. So, capture the moments today to make memories for tomorrow.
You might also like:
How to write birthday card wishes?
Create your own avatar image to use for a birthday invitation