If you're big into the world of social media, you might have noticed something about cartoon avatars. It's becoming pretty obvious that cartoon avatars are growing in popularity. But how do you get a cartoon avatar without being an artist or having crazy photoshop skills? So, with that in mind, here's a list of the 5 best cartoon maker apps for you. Choose one to join the creation or play the "would you rather to get a free avatar NOW!!
5 Best Cartoon Picture Maker Apps
1. Avatoon – Cartoon Maker & Stickers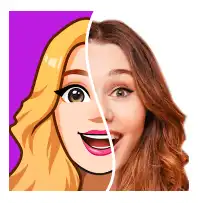 Avatoon has just a ton of customization options. In addition to using photo-capture to create an avatar automatically, you can also manually create and optimize your avatar.
But my favorite feature of Avatoon is the awesome editing options available. Using Avatoon's "Photo Booth" feature, or even uploading your own personal picture, allows you to insert your Avatar into real-life photos. After making your own personal avatar, and choosing its hair, clothes and accessories, you can put your avatar onto the photo however you please. You can have your avatar sit cross-legged, have a soda, stand. Make one in 5 minutes following our step-by-step guide!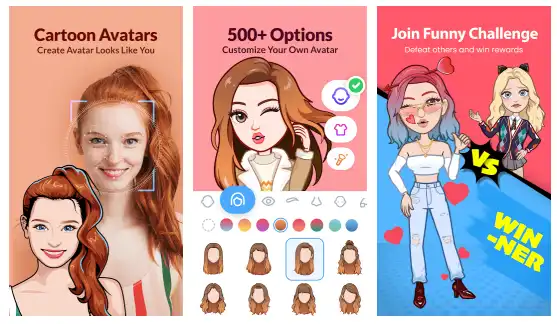 There are a ton of other great Avatoon features, such as personalized stickers and emoji, which are easily shareable on social media and in text. Check 30 Funny Meme Stickers for Snapchat (Free Download)! Conveniently, Avatoon is available for both Apple and Android phones. You can download the Apple version here, and the Android version here.
2. Mirror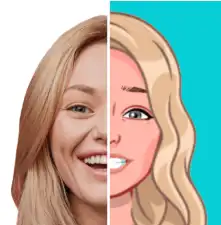 Another great Avatar maker is Mirror. Mirror offers a lot of the same features as Avatoon. Facial recognition, as well as personalized stickers and emoji. It also has the added benefit of two different art styles: original vs. anime. This gives users the added ability to choose how they want to express themselves.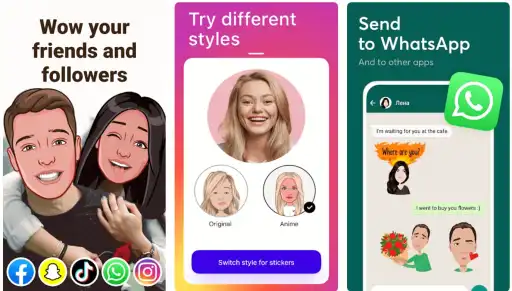 Mirror also does its best to make sharing your creations on social media, and through texts, easy. The app really emphasizes the social nature of avatars, and how they can be used to better express yourself on social media. And also make it much more fun!
On that note, the app seems to largely focus on texting and messaging and it's features mostly focus on stickers and emoji. There doesn't appear to be many makeup options, and no clothing options. So That means If you decide to use Mirror, be aware that you may not have access to as many features as other avatar makers. But with a rating of 4.1, it seems that most users are satisfied.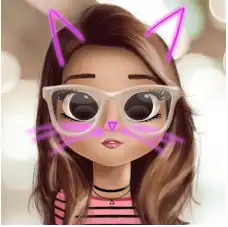 If you're looking for an even more stylized look, then My Doll Face might be the app for you. My Doll Face seems to be aimed largely at the RPG gamer crowd. They emphasize the ability to personalize your anime girl or boy, and are going for a very specific look. They emphasize the ability to give yourself larger eyes and other anime art-style features.
My Doll also give you a lot of options in terms of personalization and accessories, but again with a very specific style. It's a very polished looking app, and really does a good job at what it sets out to do. The art-style might not be for everyone, but if you really love anime/magna this could be the app for you.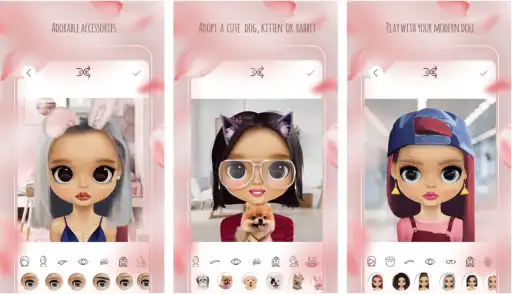 The focus is more so on the head portion, so don't expect as much for clothes options. Also, because the look is so stylized, it's more focused on creating a new character than letting you cartoon yourself. Still, that is definitely an option as well.
As the name suggests, My Doll Face is a doll making app, and the emphasis is more on creating cute avatars than on the social aspects of an Avatar. However, with a rating of 4.2, users seem to enjoy the app.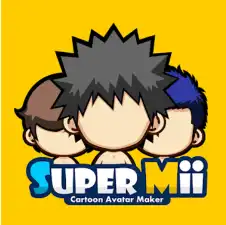 Here's another cartoon face creator that will give you more bang for your buck. A very different look from My Doll Face, yet still anime inspired, SuperMii seems to be popular with its users. A rating of 4.3 means that you're sure to get something from this app.
Unlike some of the other apps on this list, SuperMii does not offer face-capture to build you an automatic avatar. That seems to be on purpose, however.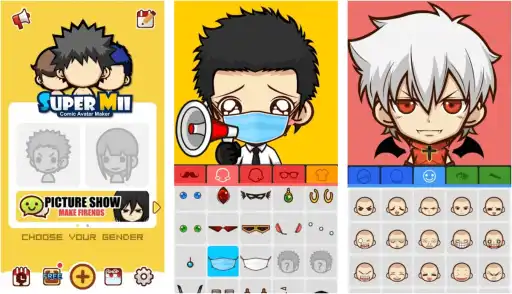 The focus of SuperMii is on letting users create their own ideal cartoon character. This avatar can then be used to represent you on facebook, youtube, or other social media. Their focus seems to be on only the profile pic, or channel logo, which seems to be working for them. That does mean you're giving up some versatility in terms of features.
SuperMii is great for your profile, but not so great when it comes messaging or more active social media use. Personalized stickers, emoji, and real-life photo support seem absent. However, SuperMii seems like a great, polished, choice if you're looking to simplify your profile or create a professional brand. Sometimes focus is better than versatility. Why not download SuperMii and give it a try?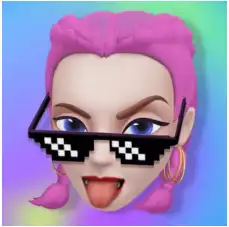 The last app I'll suggest is Face Cam. This app has fully embraced the 3rd art-style, and I have to say I think it totally works. It's primary goal is creating emoji, or "facemoji & memoji" which it does a pretty solid job of doing. First of all, the options available for skin, hair, eyes, and accessories have to be second best on this list. The art is definitely keeping up with current trends, which puts it a step above its competitors.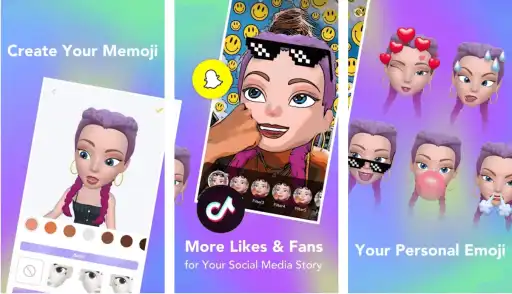 They still support the creation of Avatars, which can be used as the basis for user created emoji. Think of them as personalized reaction gifs. The app also allows you multiple different avatar or memoji faces, so you don't have to worry about getting stuck with just one. But Face Cam is much more than that.
Face Cam also gives users the option for 3D motion video capture, which is simply amazing! You can record video of yourself with an awesome 3D filter of your avatar, which really brings it to life. You can speak, move, blink, everything. It captures video perfectly, and is super fun.
There are, however, some drawbacks when it comes to Face Cam. For one thing, there are almost no clothes options, and the focus on the app seems to be mostly on stickers and emoji. Further, although there is a 30 second preview version of the face recorder, unfortunately full access must be paid for. This probably accounts for the 3.8 rating on the Google Play store.
How to make a cartoon avatar by yourself?
I'll show you how to make your own avatar on your phone taking Avatoon as an example.
Step 1. Get a cartoon maker app!
Step 2. Create a cartoon avatar of yourself
Step 3. Custom your avatar in detail
Step 4. Style your avatar
Step 5. Choose expressions & poses
Check the specifics in this article: For introverts: how to make your own avatar to express yourself?
Avatar can be an awesome way to spice up your social media game, or just have some fun. No matter what your goal is, it's great that we now have so many options for a cartoon avatar maker. You can make an avatar that looks just like you, or you can experiment to create something entirely new.
So don't wait, jump right in and try out whichever cartoon maker you think fits you best.
You may also like: