Hi there, have you heard about the metaverse avatar? Are you thinking about how is this gonna impact your life? Do you wanna know how to join the metaverse? What metaverse avatar creator shall I use? If you want to know more, come in and we will tell you all the latest news. Besides sharing valuable information, we will also answer your questions about new virtual reality trends! Stay tuned – stay trendy!
What is a metaverse avatar?
If you use Instagram, you might have noticed that when you open it, the bottom has changed! Now, it says: from Meta. Before it was: from Facebook. Why did it happen? Short introduction below:
During the online presentation Facebook Connect on the 28th of October 2021, Mark Zuckerberg, talked about VR, AR, and a new trend metaverse avatars. By the way, these words come from a combination of 2 words: meta + universe.
Sounds like the whole Meta Universe is going to be created here.
The Key Takeaway:
Metaverse avatar trend comes from Facebook. Avatars can be 2D and 3D.
Technologies: AR and VR.
Types: full-body and Upper parts.
Why do you need a metaverse avatar (where to use it?)
To answer this question, we can look at the key features of the metaverse avatar:
Users can communicate with each other using avatars
All the content that we used to see on daily basis can be viewed in the form of holograms
Facebook, as well as other companies, can create their own virtual offices where different activities can be held (imagine, instead of normal meetings in Zoom, there can be full-body avatars of colleagues just as real ones, interacting with each other)
And, of course, there will be a great number of games released! Check out the coming Oculus Gaming Showcase.
Metaverse will let users living in different places play games or do sports together, all thanks to AR.
As for education, it will become more interactive. Doctors will be able to practice their skills in VR, and astronauts will study Space at their fingertips. All thanks to AR.
Users can upload 3D models of cars or any other objects and try fixing them or doing anything they want. Learn more with holograms.
New e-commerce! There are not so many details about it yet, but who knows, with the development of cryptocurrency, Metaverse avatar can be a good place for any new start-up!
Users, you are free to create and develop your worlds, clothes, anything! The new market is waiting!
Facebook is developing smart AR glasses under the code name Project Cambria which we will see in 2022.
This is just a brief introduction to the limitless future of metaverse avatars.
How do you get an avatar in Metaverse?
The answer is easy. Just use special 3D avatar makers! Sometime before, we talked about 50+ Free Metaverse Avatar Maker Tools. Check them out to be fully equipped for a new era! Number 50 means that all of you will find something suitable and likable!
But for now, we will move on to the next step: review and create! Let's have a look at:
3 most recommended 3D Metaverse avatar creators
Spatial is dedicated to helping creators and brands build their own spaces in the metaverse to share culture.
Simply speaking, this is you, your metaverse avatar, house, and everything you want to add to your world or join others!
While using Spatial, it reminded me of the famous game called Minecraft. But, these graphics, VR, and AR technologies drive me crazy. There are many things to explore! Metaverse is expanding!
Pros:
1 A very realistic half body Avatar
2 An amazing virtual worlds
Cons:
1 Only the color of shirt and skin can be changed
2 Device, as well as the Internet, should be powerful, quick and stable
If you are interested in Spatial, read their Guides and start creating your Metaverse!
An OSUVOX avatar is a unique NFT and the world's first customizable metaverse avatars. Every OSUVOX holder will receive 1 out of 10,000 unique portrait images. This can be used across multiple platforms as an avatar profile picture. Check out the OSUVOX Collection on OpenSea.
A fully 3D Avatar spinning in the OSUVOX metaverse. Each avatar will receive a free body and will be further customizable in the OSUVOX Portal. To learn more about OSUVOX avatars visit the Avatars page.
Each Avatar will be interoperable within a multitude of metaverses and games such as The Sandbox, OVR, Arcona, and others.
Pros:
1 A big choice of avatars
2 Interesting descriptions to each of them
Cons:
1 Unfriendly UI
2 Complicated Log-in procedure (Cannot Connect Wallet and Proceed Further)
There is a huge potential behind it, let's try to learn more about OSUVOX in the future articles on our Blog page.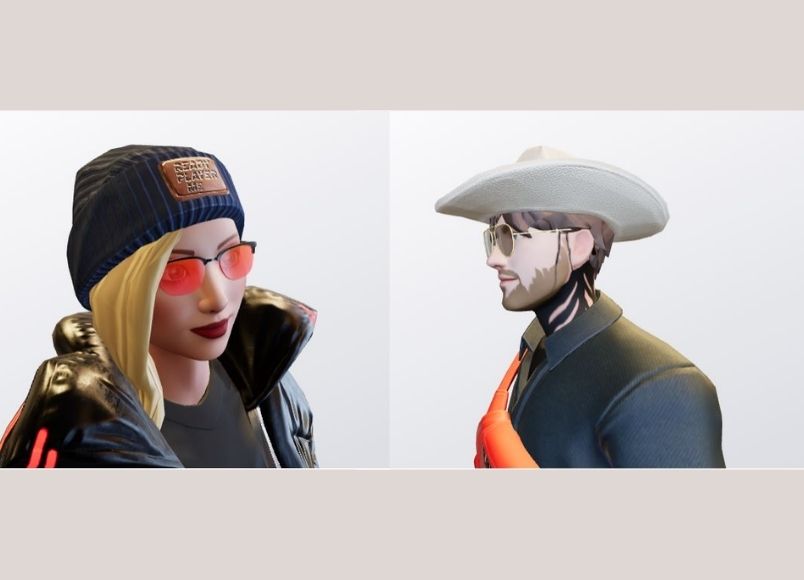 We'll talk about this one in detail in the next section along with a walk-through guide.
How to make a 3D metaverse avatar?
Now, the final part of the article. Let's create! There is a short and simple guide for you on creating your metaverse avatar. We will use Metaverse Full-Body Online 3D Avatar Creator by Ready Player Me.
There are several simple steps:
1. Create Your Account (easy and quick)
2. Gender (upload your photo or take a selfie)
3. Make it look as real as possible by:
a) Shapes: head, eyes, nose, lips
b) Hairstyle + Facial Hair
c) Colors: skin, iris, eyebrows
d) Accessories: glasses, masks, headwear
e) Makeup: tattoos, lipstick, highlighters
f) Clothes: only sets are available (stylish and cool, really a lot)
4. Click Enter Hub and explore a great number of available apps where you can use your new metaverse avatar.
If you need a visual guide on creating an avatar, you can read a detailed guide about it. There are 10 steps, screenshots + videos! Enjoy!
So, this is it. I hope this article was informative and useful for you! Thank you for your attention! We are glad to guide you and we are happy to see you!
You may also like: