How To Create An Anime Character Online? (Quick & Easy)
Retro anime pics have gone viral on social media. You can actually use these characters to express your attitude or emotion towards anything, like your ex, a celeb gossip, a public event or a rumor about you. It doesn't take you more than 5 minutes to make one. And you can also use them as your icon or profile picture. I'll use Picrew to demonstrate how to create an anime character online.
If you just wanna give it a quick try, you can try our FREE online avatar tool. For those prefer using mobile, you can choose an app from 6 best free cartoon makers!
8 Steps To Create an anime character online for free
1. Choose the artistic style you like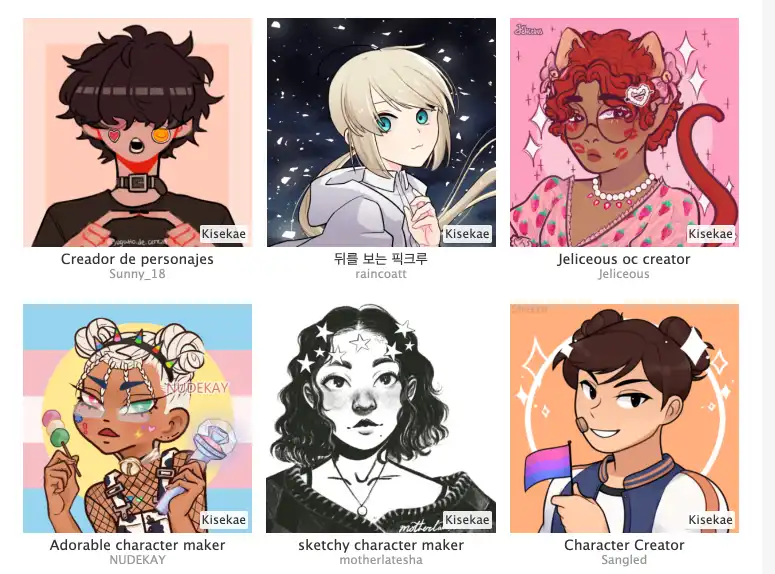 Open the website, you'll see a rich variety of artistic styles offered by creators all over the world. Choose whatever you like to have a try! I'm an Andy Warhol fan so I'll use LICHTENSTYLER as an example to show the steps!
2. Choose a skin tone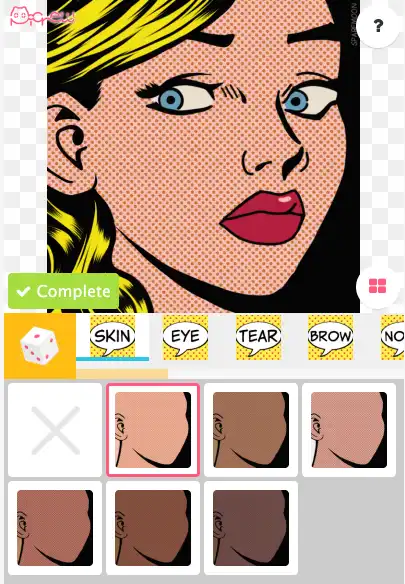 There will be a default character and you can change every detail in the following steps! Or you can roll the dice to get a random character at once. As you can see, the option buttons are just below the character. Click on the SKIN button, you'll see 6 shades, from light to dark.
3. Choose the eye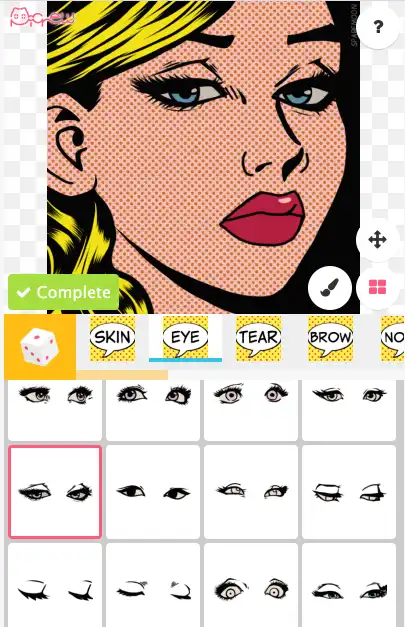 For me, eyes are the core of a character as they convey the emotion directly. Also, they take a great part in how a person looks like.
This creator offers about 20 eye shapes. I want my character to look cool and indifferent so I choose this one. Which one would you choose?
4. Add tear and eyebrow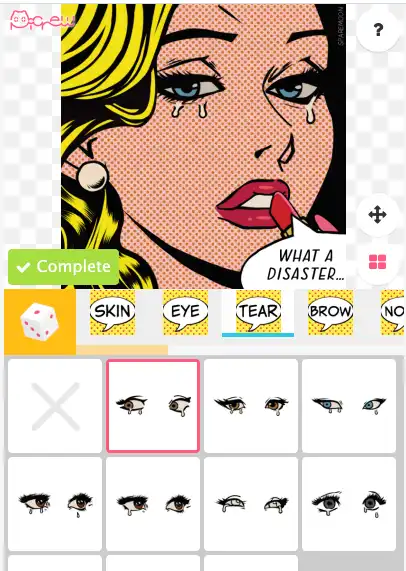 I really like the TEAR option because it can make your character more lifelike. And you don't often see this in other character games.
I'm not adding it this time as it doesn't match with the emotion. Also, you need to carefully choose the eyebrow. Make sure the makeup doesn't look weird.
5. Choose the nose & mouth shape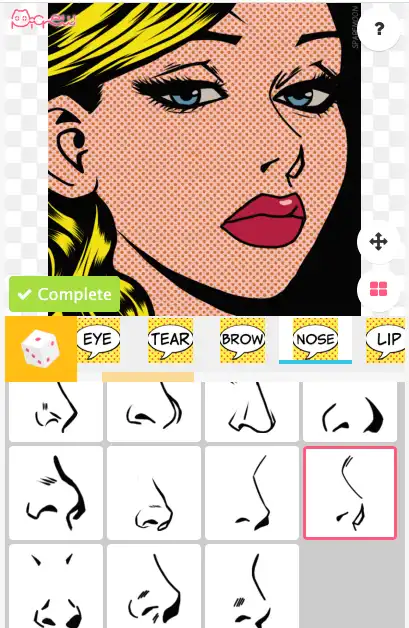 The options are plenty. What's important is to choose the one that fits well on your character's face, while help to express the feelings. So it would be better to try enough of them to see which one is the best choice.
6. Change the hairstyle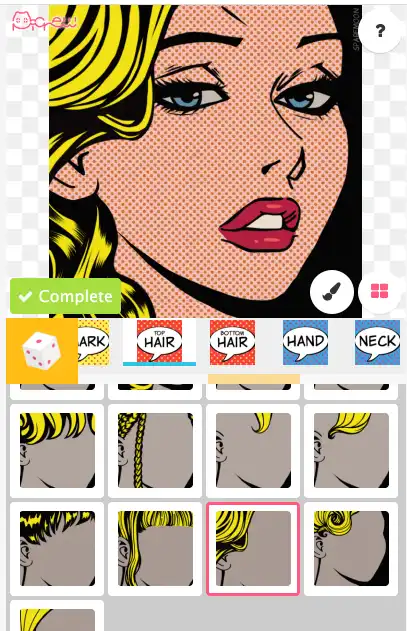 The hairstyle is divided into two parts: top and bottom. Custom each part one by one. I'm trying to make it retro so I choose the 1980s Hollywood curves for her.
7. Add gesture and accessories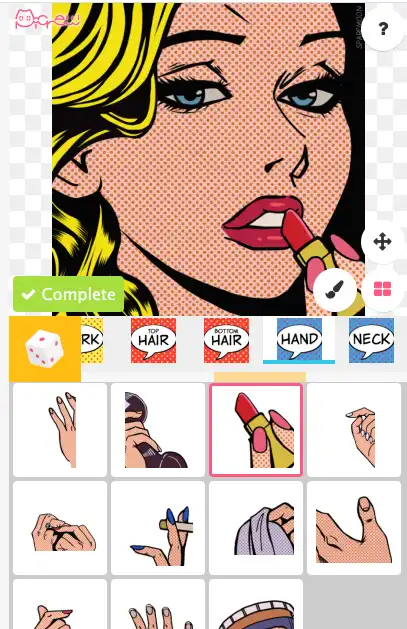 Use this part to add a story to your character: answering a phone call, wearing lipstick, drinking coffee or smoking. This game doesn't offer outfit options but you can still add necklaces and earrings to make her look gorgeous.
8. Add texts to express yourself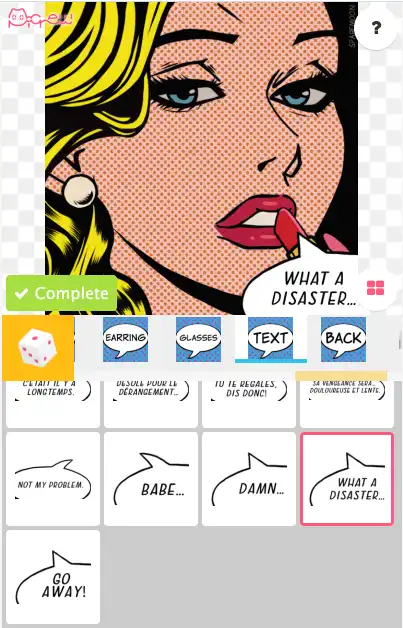 The game offers 30+ speech bubbles. They will show at the left or right corner on the pic, which you have to try by actually applying each one. Choose a text to express your attitude and fits your character at the same time!
Save and Share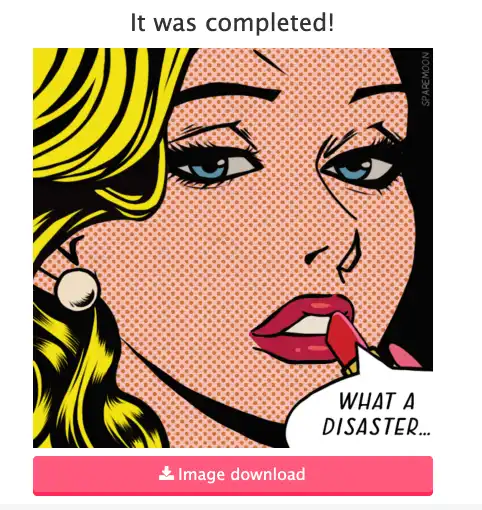 After everything is well adjusted to your satisfaction, you can click the Complete button to save the picture. You can share it directly on social media or send it to your friend later. It's all up to you! As for me, I'm going to make more!
6 Best Websites to Create Anime Character Online
Check the pros and cons in 6 Best Anime Character Creator Sites Online to Make Your Own!!
How to make an anime character with an app (iOS & Anroid)
I use Avatoon to make my anime characters. You can download it for free on Google Play or App Store. Here is an infographic, and you can find detailed guide in How To Make Comic Characters With 1 Single APP.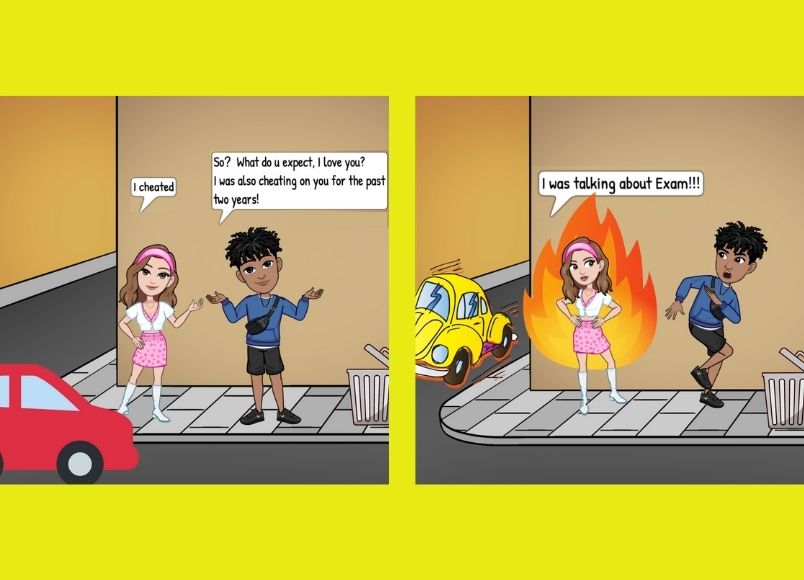 Don't let your inspiration slip away! If you wanna making some cartoon characters right now, get Avatoon on Google Play or App Store to start your creation!
You may also like: