Arigato, my dear friends! Just checking, are you a fan of Anime? Are you looking for an Anime look? Do you want to be closer to your favorite heroes and heroines? Check out what we've got for you here! 7 best anime character creator sites online to make your own! Here we go! If you are not sure about your skills in creating an anime character online, click here to go through a quick guide. Want to know how to use those anime characters and other illustrations, check this out.
What is the Best Online Anime Character Creator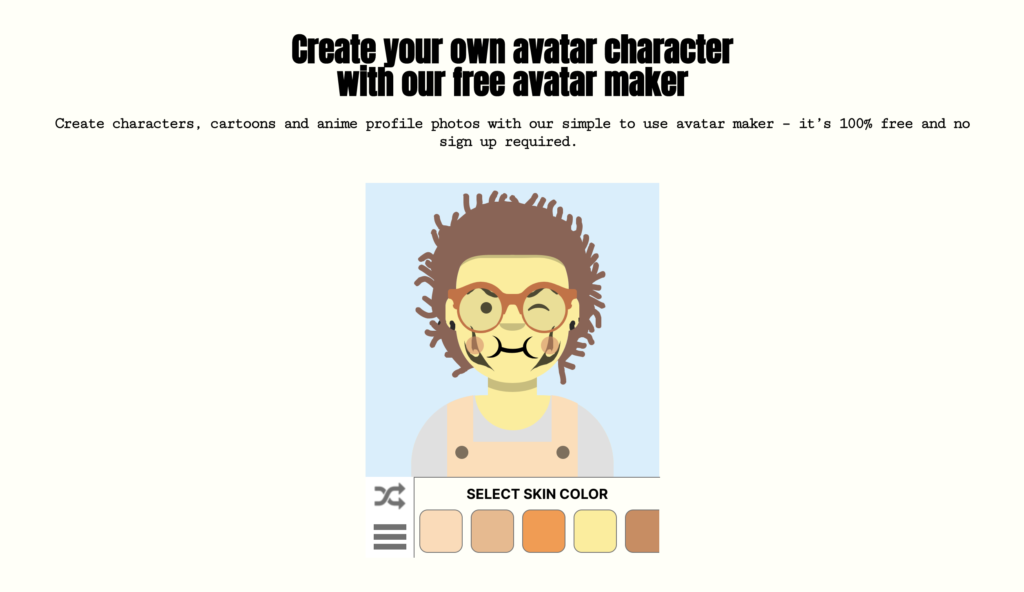 This online anime creator tool allow you to create fun, chic and cool avatar.
This service hasn't been launched yet, but YouTube videos 1 and video 2 show us that this is a revolution in the world of Avatar creators online. This anime character creator online is not just amazing and beautiful from the point of view of the user interface, but also their models. They are just as real as those that we see when we watch our favorite Anime. Crypko is a great software that can create beautiful anime characters like professionals. Since this project is still under creation, try our own products for Android and iOS.
3. Make Girls Moe.
This is a very special website that has very powerful AI technologies. This anime character creator online lets you choose options for your female avatar. So far, this is a mostly girls' website, because all 4 models are girls. But, who knows, maybe later we will see boys there, too. Anyway, it is a worthy tool. You can switch to the "Advanced Mode" and customize it more precisely. Check out screenshots for more information.
It is considered to be the best website to create a superb full-body avatar. This site has a great number of tools to create a Kawaii avatar! All things you need are here! Such things as adding blemishes, scars, and even birthmarks (!) to your character. By the way, it is free! One more point to mention, you can print your avatars and have them shipped to your house! And, there is also a tool that can make free stickers to use on social media!
This one has many outstanding features that output interesting and attractive results. On the site, you can customize the characters fully. You can add shapes to the eyes, lips, and other dresses. There is also an option to make the eyes bigger and more adorable. You can also tilt the head of the avatar to make it more attractive in a way. You can download the avatar and use it as a profile picture on Facebook or Instagram. Besides this Website, you can click the "Show Off Your Avatar" button and proceed to the Website where you can Customize Products, Create Designs & Connect Online. Such a unique opportunity if you want to become a designer and make some money from it! Don't miss the chance!
This is a crazy simple and very unusual anime character creator online to make your own avatar. This website lets you design your anime characters from a scratch. Their site is also free. If you are not sure about the way your avatar should look, click the fantastic button "Randomizer" and you can choose the one you like. This tool generates random avatars. Sure, this website has a bit fewer functions than the 1st one, but it is still a good choice for a perfect customized avatar.
This Website you cannot muddle it up with something else. Simply. Clever. Even the name already gives you chance to find what you want to! And it does! It gives you total freedom when creating your avatar. From body shape to beard color, you can customize them all! Custom anime is an anime character creator online with unique features. You can change the shapes of clothes, body parts, or gender. And save it as a jpg. Image. And all these things are for free!
How To Create An Anime Character Online
Follow the guide to give it a try NOW!! Click to get more details.
Choose the artistic style you like 
Select a skin tone 
Choose the eye
Add tear and eyebrow
Choose the nose & mouth shape
Change the hairstyle 
Add gesture and accessories
Add texts to express yourself 
Where can I create my own anime character for free?
Avatoon: Download Avatoon App to create your anime character for free.
CHARAT GENESIS:  is an anime character creator that you can play for free. You do not need to install it, you can play it right away from the browser. Please make your own character!
SuperMe: The avatar maker for anime fans.
To conclude, we'd like to underline that anime characters are so adorable to look at, and this genre is growing fast! More and more people want to somehow take part in it. Someone does cos-plays, someone draws, watches more and more, but someone like you decides to create an anime avatar. Please, feel free to choose between the above-mentioned anime character creator online websites. If you didn't find any of these 6 suitable for you, feel free to click here to check previous versions. Have a good time!
You may also like: